Vancouver, BC – InZinc Mining Ltd. (TSX-V: IZN) ("InZinc" or the "Company") is pleased to report a new occurrence of zinc with copper, nickel and cobalt from drilling and additional results from the 2022 exploration drill program at the Indy project (100% option) ("Indy" or the "Project") located 100 kilometres (km) southeast of Prince George in central British Columbia. Additional results from expansion drilling at the B-9 Zone are expected shortly.
Keel Red Occurrence – 27.1 m of Zinc Oxides with Nickel, Copper and Cobalt
Drill hole IB22-020 (Table 1), exploring between the Keel and Echo Central geochemical targets (Figure 1), has intersected 27.1 m of buried oxide material starting at 47.3 m downhole and averaging 0.67% zinc and 0.13% nickel. Named Keel Red, the upper part of the core interval (from 47.3 m to 55.0 m) also returned 0.11% copper over 7.8 m. Additionally, the 27.1 m interval is anomalous in cobalt content averaging 163 ppm with values up to 962 ppm over a 1 m core length.
"This is the first exploration drilling of this area and the first time we have seen the presence of nickel-copper-cobalt with zinc at Indy. It is also the first known occurrence of the important "battery suite" of metals in this unexplored region of BC," commented Wayne Hubert, CEO of InZinc. "InZinc's extensive geophysical and soil geochemical coverage, which includes nickel, copper and cobalt, provides the depth and flexibility to develop new targets at Indy when new metal potential from a discovery such as Keel Red is identified."
Table 1: Indy Project – 2022 Drill Hole Intersections – Keel Red Oxide
Drill Hole
(HQ)
Interval
(m)
From
(m)
To
(m)
Zinc
(%)
Nickel
(%)
Copper
(%)
Cobalt
(PPM)
Depth
Below
Surface
(m)
IB22-020
27.08
47.25
74.33
0.67
0.13
0.06
163
30
includes
7.75
47.25
55.00
0.66
0.14
0.11
154
6.00
58.00
64.00
0.93
0.17
0.09
280
Note: Drill intervals represent apparent width. True widths are unknown.
Oxides as a Pathfinder to Sulphide Mineralization
Keel Red is interpreted as an oxide occurrence and a secondary deposition of metals. A primary sulphide source of these metals, potentially located at depth (Figure 2) and/or along trend, is of significant interest as a new exploration target at Indy.
Keel Red is located approximately 5 km north of the mineralized B-9 Zone, which was expanded in the 2022 drill program (news release December 15, 2022). B-9 is primary sulphide mineralization now traced by drilling over a 400 m length and 80 m at depth. A zinc oxide occurrence located downslope of B-9 is the only visible surface expression of this mineralization and highlights the importance of recognizing oxide type mineralization as a pathfinder to primary sulphide mineralization in the district.
Figure 1: Indy Project – 2022 Targets and Drill Results – Plan Map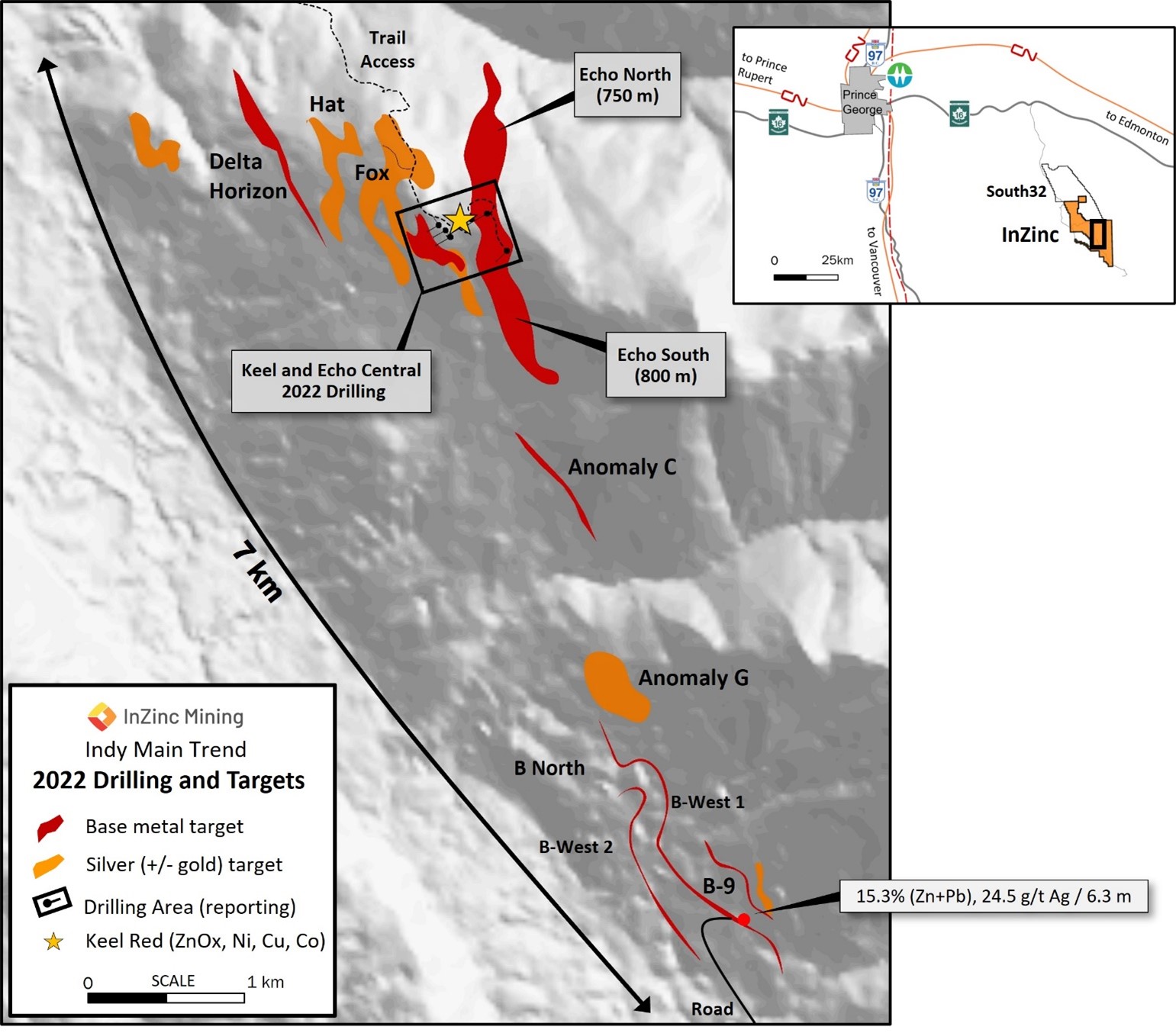 Figure 2: Indy Project – Keel Area – Drill Hole Plan and Section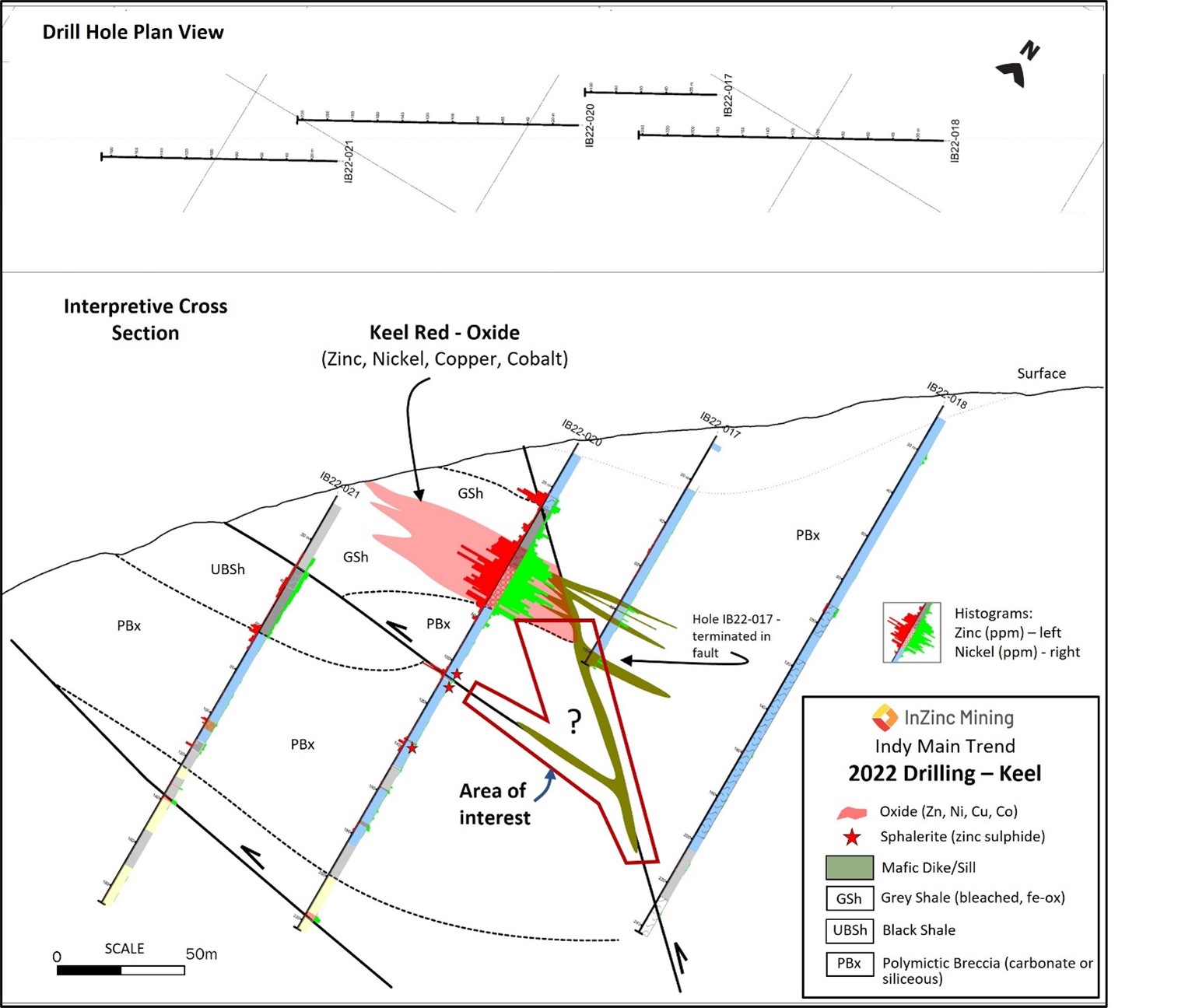 Additional Results 2022 Exploration Drilling – Keel and Echo Central (Figures 1 and 2)
Seven holes were completed at the Keel and Echo Central targets in the 2022 exploration drill program (Holes 16 to 22 totaling 1192 m). As previously stated, challenging terrain and lack of water prevented the planned drilling at the Echo South target (Figure 1) in 2022. Echo South remains one of the strongest geochemical targets on the project.
Highlights of drill intersections in the Keel area (in addition to hole IB22-020) are as follows:
Hole IB22-017: Designed to intersect strongly anomalous zinc in soil geochemistry between the Keel and Echo targets. The hole was terminated at 104 m downhole due to technical difficulties (faulting). A series of mafic dikes/sills were intersected near the end of this hole which may be related to the mineralization at Keel Red, located 40 m west.
Holes 16, 21 and 22: Explored the Keel (zinc) geochemical target. Holes 21 and 16 collared in weak to strongly altered, oxidised and bleached shales which may be related to the Keel Red mineralization, located 80 m to the east.
Hole 18: Collared 90 m east of Hole 17 to complete the 400m cross section between the Keel and Echo targets. This hole intersected massive to brecciated carbonates with strong faulting at the end of the hole.
Hole 19: Drilled at Echo Central, a lower priority section of the 1.9 km long Echo target. Several narrow intersections returned zinc and nickel which are associated with mafic dikes/sills and similar to the Keel Red oxide in Hole IB22-020 located 300m northwest.
Project Earn-in Expenditures Completed
With completion of the 2022 exploration expenditures, InZinc has now completed its total work commitment earn-in expenditures for the Indy option.
Cordilleran Roundup 2023
InZinc will be exhibiting at Booth #127 at the AME Roundup 2023 taking place in Vancouver January 25-26.
About InZinc
InZinc is an active explorer and through earn-in, equity and royalty interests is exposed to a diverse portfolio of active North American base metals and precious metals projects. Since the 2018 discovery of high grade, near surface mineralization at the Indy project (100% earn-in), InZinc has outlined over 10 km of high quality exploration base and precious metals targets and has expanded its mineral tenure to 200 km2 in a new and unexplored mineral region of central British Columbia, Canada. In late 2021, a Canadian subsidiary of South32 (ASX, LSE, JSE) became a major tenure holder in the belt by staking approximately 200 km2 of adjacent claims. InZinc has a significant equity investment in American West Metals (ASX) which is advancing multiple North American base metals projects. In addition, InZinc has a production royalty and will receive 50% of the revenue (NSR) from the sale of indium mined from American West's West Desert project.
InZinc Mining Ltd.
Wayne Hubert
____________